Hello, hello! Thanks for joining me on another WIAW hosted by
Peas and Crayons!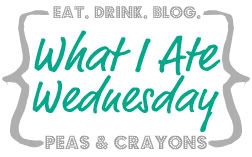 Now, my What I ate Wednesdays are just generally what I've been eating... Wednesdays are pretty boring usually, so yeh. You can also check out what everyone else has been enjoying over at
peas and crayons
with the wonderful link up! If all this talk of food and eating etc. just makes you hungry, than tune in next time for a recipe!
Breakfasts:
Eww, what is that! Trust me.. it was sooo yummy! It was a rich, nutty, chocolatey, green smoothie. O.M.G It was goood:
1 frozen banana+ 1/2 frozen avocado+ 1 tablespoon oats+ 1 tablespoon nut butter+ 1-2 tablespoons raw cacoa+ 1 tablespoon choc protein powder+ dash of cinnamon+ some chia seeds+ milk- I used oat (not much- I like
THICK
shakes- like barely able to sip through straw thick!)+ 2 big handfuls of spinach.
Place in blender and blend!
Cinnamon apple microwave muffin, topped with coconut wholegrain cheerios and peanut butter ice cream (frozen banana+ peanut butter+whaz!)
A jar of peanut butter! Hahah just kidding- it was almost entirely empty...
Oats in a jar!
And lets not forget an old favourite:
Peanut butter banana toastie!
Lunches:
Egg and salad roll (boiled egg mashed with hommus with capsicum, grated carrot, cucumber, tomato and spinach)
Panini! With veggie burger, tomato, grilled capsicum, mushroom and eggplant. Also some hommus and salsa:
Grilled in a sandwich press:
Taken off to school :)
Snacks:
I only have a picture of today's snack, but their all fairly similar, usually fruit and soy milk* :)
*I'm also so rebel- I have my milk in a coke glass:
Dinners:
A Mexican wrap, with Mexican flavoured not-mince, salsa, beans, corn, lentils and avocado- pressed in a sandwich press and some roast veggies:
Then I wasn't feeling too well, so I had a nice simple dinner of grilled polenta flatbread, baked beans and roast veggies:
So there you have it! A glimpse into my stomach (Umm, yeh, I meant to say that!)
Have a great rest of your week everyone!
:D