Wowza this has been a whirlwind of a week. I don't feel like I've had much down time at all! Homework, school production, flute lessons, yoga classes, extremely long walks (to calm my restless legs that are itching for running!) and did I mention homework?
So when times like this happen, food preparation and time spent in the kitchen unfortunately decreases. I hate eating food that doesn't taste good though and having a cup of instant noodles just won't satisfy- so I make sure that whilst my meals may be quick and easy.. the taste absolutely awesome!
Here's a glimpse into a day-in-the-life:
Brekky:
mango fro-yo!
Lunch:
Snack:
Dinner:
A delicious dinner whipped up in 15 mins:
An omelette made with two eggs, 1/2 teaspoon garlic, nutritional yeast and some rice milk, poured into pan, left to almost set then topped with sauteed mushrooms, basil, tomatoes and pine nuts and folded in half for a few mins :)
What did you eat Wednesday?
Do you like quick and easy meals... are they still delicious?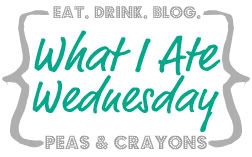 See you all next time! :D