Welcome again to another
WIAW
... Tuesday style!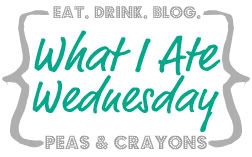 Sooo.... after that inspiring intro (ain't nobody got time for that! Hello STUDY!)
Breakfast!
Closer, please!
Closer!
And do you notice how dark it is! Winter's here people!
Lunch:
Quinoa, steamed pumpkin, spinach, cherry tomatoes, lentils and an interesting sauce (this is the weird part of my title :)
Can you guess what the sauce was?
Snack... as usual fruit with soy milk☺
So... recycled photo :)
pesto
pasta with red kidney beans, mushrooms and steamed veggies :)
this one!
In the meantime, I'll get back to study whilst you guys can check out what every one else has been munching on over at
peas and crayons!
Ciao! :D