Yayayayayay! Exams are over. O-V-E-R! Well I still have to do a maths general exam, but I'm not too fussed about doing that after the extension exam.
I've also got to ask... Is it worrying that I think my society and environment essay was better than my english one? :0
Anywayz, enough about that because it is over!
Onto the fooood.
WIAW
style (using my Tuesday
and
Wednesday
eats :)
Stressful times, call for simple delicious meals... and every single one of these were simple and delicious!
Today's Breakfast!
I began the day giving my brain the best start it could with some ultimate brain foods (well, I 'm pretty sure they're brain foods, my tummy liked them... so there for my brain must too!)
Easy-peasy simple-pimple home made wholemeal spelt bread (say that three times fast!) smothered in the little bit of peanut butter I had left and cashew butter :)
Also some home made-ish blueberry yoghurt (see- brain food!) Made by whazzing together some greek yoghurt, a handful of blueberries and a banana together in my
trusty mini food processor!
Yum!
Most was scooped up straight into my gob, but some...
Good call Steph!
It was gone too quickly :)
And no, I was not procrastinating about getting ready for school (and therefore exams) by taking millions of photos of my breakfast.. that much.
So I sat my first set of exams yesterday, shushed my rumbling tummy and made it out (at about 1:45pm!) just in time for the sky to open up. It poured! I found my friend, whom I knew had to walk home and called my sister to come and pick us up. By the time I got home it was 2:15pm and I was seriously ready for lunch!
(This was yesterday's lunch- I didn't have my delicious bread twice in one day, it's something I would do though...)
Quickest thing I could throw together to satisfy my stomachs protests!
I boiled the jug, chopped my bread, boiled my eggs, mashed my avocado, heated the beans, spread the spreads and sat down to eat at approximately 2:30pm! I mean come on people- that is not lunch time!
Today's lunch was a lot less stressful and I managed to eat at about 2:00pm (still!)
A wholemeal wrap with a torn up veggie burger, grilled mushrooms, capsicum, asparagus and pumpkin, sliced tomato, hommus, spinach and salsa :)
Last nights dinner was stress-free, easy, don't-have-to-think-about-it, Steph's go to dinner:
A mixed veggie mash:
Steamed, pumpkin, parsnip, beetroot, sweet potato, potato and carrot, mashed together with peas, lentils, garlic tofu, steamed brussels sprouts and topped with nutritional yeast.
So not too inspiring, but if you stick around there might be a fun purple-post in the near future (how many things are purple? Well enough for me to post about it!)
Have a fabulous rest of your day and be sure to check out
Peas and Crayons
- on Wednesday/Thursday to see what everyone else has been WIAW-ing :)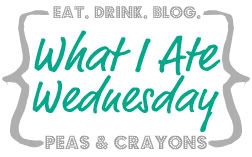 Bye! :D